Doctors & Staff
Meet the experienced and friendly doctors and staff who make Fields of Vision Eye Care, Inc. the leading provider of vision care products and services in Lebanon.
---
Dr. Chris Fields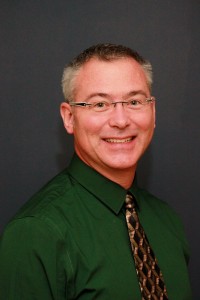 Dr. Fields is a 1994 graduate of the Pennsylvania College of Optometry. While at the college, Dr. Fields participated in eye care research and was published in two articles in the newly evolving field of excimer laser refractive surgery, as well as an article on the effects of carotid artery disease and the eye. He also acquired additional training in Low Vision rehabilitation and began to study further the effects of nutrition on eye health and visual performance.
Dr. Fields completed his residency as an Eye Doctor at the Wilmington, DE Veterans Administration Medical Center. During his residency, Dr. Fields received extensive eye care clinical experience in managing ocular diseases such as:
Glaucoma
Macular Degeneration
Retinal Vascular Disease
Dry Eye
After completing his residency training, Dr. Fields joined a large refractive surgery practice in the Philadelphia area and was instrumental in helping to complete the clinical research and FDA application for the first excimer laser to be approved for LASIK surgery. While at this practice, he gained experience in treating pre and post-operative refractive surgery patients, managing corneal disease and complications associated with refractive surgery, and fitting specialty contact lenses for the post-operative cornea.
Optometrist NH – Dartmouth-Hitchcock Medical Center
Dr. Fields joined the Section of Ophthalmology at the Dartmouth-Hitchcock Medical Center (DHMC) in Lebanon, NH in 1999. During his eleven-year tenure as an Eye Doctor at DHMC, Dr. Fields created a Low Vision practice that received patients from throughout New England. He also provided comprehensive pediatric and adult vision care and contact lens fittings. This included prosthetic contact lenses for the post-traumatic eye and sports specialty contact lenses to enhance the individual patient's visual sports performance. He also specializes in dry eye treatments.
In addition, Dr. Fields managed eye disease and eye care for:
Glaucoma
Macular Degeneration
Diabetes
Genetic Retinal Disorders
Cataract pre and post-operative care
Retractive surgery pre and post-operative care
As an Eye Doctor, a big part of his practice was and continues to be the education of his patients and what they can do to prevent eye disease and improve their visual performance.
International Eye Care
In addition to his practice in New Hampshire, Dr. Fields and his colleagues Dr. Jay Jordan and Mark Milot started Global Health Cares (GHC); a US-based 501(c) 3 non-profit that was created to provide a method of creating and sustaining improved health care delivery in Nicaragua. Since 2000, GHC has been successful with the assistance of multiple donors and volunteers in building a small medical center in Escamequita, Nicaragua. This center currently provides medical services and pharmaceutical care to a very rural region of approximately 15,000 people that previously had little to no health care service available.
Additionally, with the generous involvement of the Woodstock, VT Rotary Club and Rotary International, they were able to rehabilitate and re-equip the Rivas, Nicaragua hospital that provides medical and surgical care to over 200,000 people.
Global Health Cares also organizes and provides an annual eye care trip to Nicaragua, through which volunteers are welcome to participate in providing eye examinations, treatment, and eyeglasses to individuals in some of the most remote areas of Nicaragua. A typical trip will provide these services to a thousand or more individuals.
Fields of Vision Eye Care
In April 2011, Dr. Fields opened Fields of Vision Eye Care in Lebanon, NH, where he works as an Eye Doctor and provides comprehensive and specialty eye care services. Fields of Vision Eye Care is a state-of-the-art clinic that incorporates the latest in diagnostic and imaging services that will supplement extensive eye care clinical services. Fields of Vision Eye Care provides their patients the best in diagnostic eye care and treatment.
Fields of Vision Eye Care will continue to provide local and international eye care. We promise to do our very best in meeting the eye care needs of all of our patients, locally and internationally.
Biography
---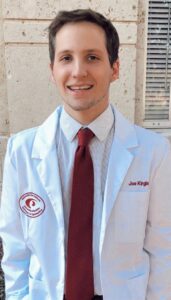 Dr. Joseph Kirgis
Dr. Kirgis is originally from a small town in west Texas called San Angelo, where he spent his childhood before attending college. Prior to optometry school, he graduated with a degree in Biomedical Science from Texas A&M University, where he was involved in multiple student organizations and charities. After school was finished, he and his wife, Shelby, moved from Texas to the Upper Valley in order to enjoy the great outdoors a little more easily than before. On weekends, you will find them hiking, camping, skiing, or cheering on the Chicago Bears.
---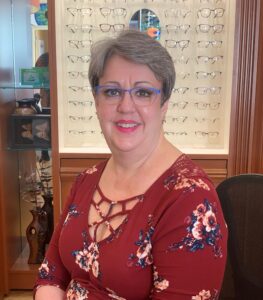 Melissa Perkins – Administrative Assistant
In 2012, Melissa brought her organizational skills, experience, and enthusiasm to the Reception Desk at Fields of Vision Eye Care. She has many years of experience assisting doctors and patients with appointments, referrals, and many other administrative duties, and truly enjoying providing outstanding customer service.
She and her husband Jack live in Hartland, Vermont. Their two children are UVM graduates and currently reside in Colorado and New York.
Melissa is an avid gardener and enjoys baking and reading in her spare time
---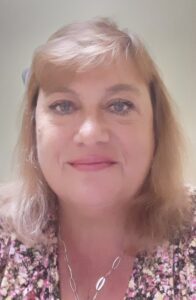 Sarah Reynolds – Patient Coordinator
Sarah joined the Fields of Vision Eye Care team in March 2021. She brings with her many skill sets in direct patient care and medical secretarial expertise. Sarah has lived in the Upper Valley since 1997. Her training includes 34 years working as an LNA, Medical Technician and Hospice caregiver. She has worked at DHMC for 10 of those years mostly in Coronary ICU and the Post Anesthesia Care Unit. She then became a Hospice caregiver for many years and most recently worked as a Patient Access Representative at Alice Peck Day Memorial Hospital.
Sarah attended Northland College in Ashland Wisconsin on Lake Superior and St. Catherine's University in St. Paul Minnesota. She has one daughter, her greatest joy in life. Having been raised on the Choptank River on the Eastern shore of Maryland, she enjoys sailing, swimming, snorkeling, fishing and any freshwater activities.
---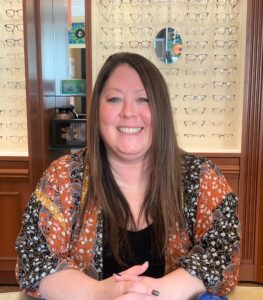 Cassandra Brackett – Optical Manager/Optician/Ophthalmic Assistant
Cassandra joined the Fields of Vision Eye Care team in 2013 with over 15 years of ophthalmic background.  She joined our team from Dartmouth Hitchcock where she worked for a year and a half in the Ophthalmology department but began her medical career in Randolph Vermont at Singer Eye Center where she worked for Dr. Jack Singer, a cataract and refractive surgeon.
Cassandra has attended numerous courses at ASCRS (American Society of Cataract and Refractive Surgery), AAO (American Academy of Ophthalmology) and NEOS (New England Ophthalmological Society).  Attending those courses as well as on-the-job training has helped assist her in her various roles from receptionist, medical billing, surgical coordinator to ophthalmic assistant, optician and now optical manager.
Cassandra is originally from Norwich, VT now lives in Sharon, VT with her husband, Travis, and their two children.
---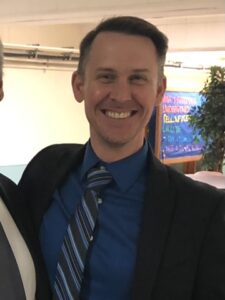 Jason Bleau – Ophthalmic Technician
Jason joined the Fields of Vision Eye Care team in November 2021, bringing with him over three years of ophthalmology experience. Most recently, Jason was a lead technician and Certified Ophthalmic Scribe for the Chief of Ophthalmology at Reliant Medical Group in Worcester, Massachusetts.
Jason achieved his Bachelor of Science degree in Biology from the University of North Carolina in 2017. He is currently working towards becoming a Certified Ophthalmic Assistant.
Jason is originally from Shrewsbury, Massachusetts and loves writing music, playing guitars, and being outdoors. He was born with strabismus, which led him to his career choice in optometry/ophthalmology.
---
Lynn Lynch – Ophthalmic Technician
Lynn Lynch has been in healthcare since 1977 as an LPN in Massachusetts. Many opportunities presented themselves including working in intensive care, then cardiovascular tech.
Her career in Ophthalmology began in Maine after signing on with a practice in Rockland. After applying, she received a scholarship plus stipend to Boston University School of Medicine's Ophthalmic technology program, graduating in 1995. Eventually certifying as a technologist and surgical assistant in 1996.
After retiring from her full time career she joined the awesome Fields of Vision Eye Care team in August of 202, along with Dr. Kirgis.
She enjoys the outdoors and hikes regularly with Gromit and Karla, her two dogs. She enjoys all kinds of music, travel and her grandchildren. Of course she loves working with the the team at Fields of Vision and hopes for a long and gratifying association.
---
Jennifer Young – Office Manager/ Medical Billing Coordinator
Jennifer comes to Fields of Vision Eye Care with over 20 years working in various medical practices with over half of those years specializing in the eye care field.
She has extensive knowledge and expertise in human resources and medical coding. She completed the Ophthalmic Administrators' Course at the Wharton School of Business in 1999. She enjoys the investigative nature of medical billing and particularly enjoys helping patients to navigate the challenges sometimes presented in understanding different types of coverage with their medical insurance.
---
Susan Goodwin – Bookkeeper
Susan joined the team at Fields of Vision in 2014 and has been working as a bookkeeper throughout the Upper Valley for 20 years.
Originally from Rhode Island, Susan moved to the area in 1983 after graduating from the University of Rhode Island. She enjoys cooking, gardening, reading, and taking long walks.  She lives in Wilder, Vermont with her three cats and has two young adult children.
---